Machi
Matoran
Class
Ga-Matoran
Occupation
Surfer
Mask
Powerless Medium Blue Great Kanohi Kakama, Mask of Speed
Status
Alive
Location
Terra Nui
Pronunciation
MAH-chee

Machi is a Ga-Matoran on the Isle of Terra Nui.
Biography
Edit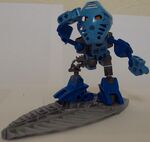 Machi is Heaka's "brother" who loves to surf at sea among the Icorahk instead of fishing.
Abilities & Traits
Edit
Machi is one of the few Matoran known to outrace Icorahk. He even took an oddly-shaped Kanohi Kakama off the back of one to use as his own. He then domesticated the Icorahk, calling it "Ikki".
Appearances
Edit
Ad blocker interference detected!
Wikia is a free-to-use site that makes money from advertising. We have a modified experience for viewers using ad blockers

Wikia is not accessible if you've made further modifications. Remove the custom ad blocker rule(s) and the page will load as expected.