The Kanohi Kaukau is the Mask of Water Breathing. It allows its' user to breathe only water for a limited amount of time.
On Metru Nui, Kanohi Kaukau are made from Regeneration, Shrink, and Remove Poison Kanoka.
Example Usage
Edit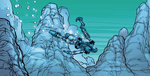 Gali, Kopaka, Pohatu, and Onua used their Kanohi Kaukau during their search for the Kanohi to collect a Kanohi Miru hidden underwater in Tale of the Toa.
Powerless
Edit
Powerless
Edit
Ad blocker interference detected!
Wikia is a free-to-use site that makes money from advertising. We have a modified experience for viewers using ad blockers

Wikia is not accessible if you've made further modifications. Remove the custom ad blocker rule(s) and the page will load as expected.