"Nuparu rocketed into the air straight at Zaktan. Just before he hit the swarm, the Toa of Earth began to rotate in midair, whirling his body faster and faster until he was only a blur."
— Narrator, Power Play

The Kanohi Kadin is the Mask of Flight. It allows its' user to soar through the sky under their own power. The user does not need a running start to get off the ground, as is needed by Kanohi Miru. The Noble version allows the user to fly, but not as fast or as long as the Great version.
Example Usage
Edit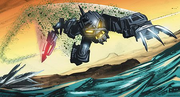 Powerless
Edit
Powerless
Edit
Ad blocker interference detected!
Wikia is a free-to-use site that makes money from advertising. We have a modified experience for viewers using ad blockers

Wikia is not accessible if you've made further modifications. Remove the custom ad blocker rule(s) and the page will load as expected.