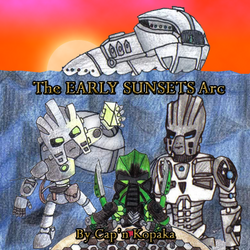 The Early Sunsets Arc is a four-part saga written by BZPower and C.I.R.C.L.E. member Cap'n K.
Early Sunsets: Iaja's Tale is the first book in the Arc.

"Due to an unlikely discovery, a curious but timid Matoran named Iaja is thrown into an adventure that spans the Universe with many others, such as, the shadow assassin Kraahua, the mysterious elder Korym, and the seductive Ethrykk."
Fog: Korym's Annals is the second book in the Arc and follows the book written by Korym prior to Early Sunsets.

"All fog starts somewhere. More than one-hundred-thousand years ago, three powerful Toa with a strange connection with nature sprouted up and were assigned to defend the Isle of Manax Nui from dark forces."
Late Dawns: Iaja's Legacy is the third book in the Arc and focuses on the events after those in Early Sunsets.

"After discovering himself, becoming a Toa, and saving the universe from the powers of the Gikk Maha, Iaja is... actually pretty bored. But that all changes when Iaja is thrown into a nightmarish world and pitted against a malevolent demigod... and himself."
Half-Life: Gyah's Awakening is the fourth and final book in the Arc and focuses on the events before and during those in Early Sunsets.

"The saga's conclusion from the perspective of Gyah and a series of flashbacks all related to the Gikk Maha and Kiriva."
The Lost Tales is a series of short stories that are supplemental to the Arc.
External Links
Edit
Ad blocker interference detected!
Wikia is a free-to-use site that makes money from advertising. We have a modified experience for viewers using ad blockers

Wikia is not accessible if you've made further modifications. Remove the custom ad blocker rule(s) and the page will load as expected.