Aki
Kanohi
Title
Mask of Valor
Powers
Shielding, Speed,
and Strength
User(s)
Akamai (Formerly)
Pronunciation
AH-kee

The Kanohi Aki is the Great Mask of Valor. It gives its' user the powers of Shielding, Speed, and Strength. The powers can be activated simultaneously or separately.
Example Usage
Edit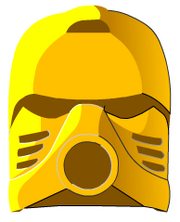 This mask manifests in the shape of a golden Great Kanohi Hau.
Ad blocker interference detected!
Wikia is a free-to-use site that makes money from advertising. We have a modified experience for viewers using ad blockers

Wikia is not accessible if you've made further modifications. Remove the custom ad blocker rule(s) and the page will load as expected.